MARKETING CONSULTING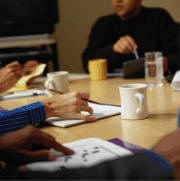 With 20 years of sales and marketing management experience, we are in a position to assist you with your marketing needs in almost any area. Past projects have included:
Sales Meeting planning and management

New Product Development

Marketing Strategy development

Distribution Alliances

Marketing Partnerships

Dealer Programs and Incentives

Brand Identity Projects

Business Anniversaries (100th Year, etc.)

Customer Service Programs

Direct Marketing Programs
Our credentials include a variety of professional certifications and training programs including:
Professional Certification in Direct Marketing (PDM) from the Bloch School of Management at the University of Missouri

Theory and Marketing of Digital Networks

Outcome Selling - AT&T

Competitive Selling Skills

Business Function Marketing - AT&T

Xerox Professional Selling Skills (PSS)

Video Production Theory - Padgett Thompson
We have designed and presented seminars for customer and trade groups such as The National Postal Forums (NPF), The American Records Managers Association (ARMA), The Little Rock Postal Customer Council (PCC), and others. Partial list of topics:
"Designing Direct Mail for Maximum Effectiveness"
"Environmental Issues and Their Impact on Today's Corporate Policies"
"Managing Paper in an Imaging Environment"
"Evaluating Support Services for the Mailing Industry"
"Competitive Selling Skills"