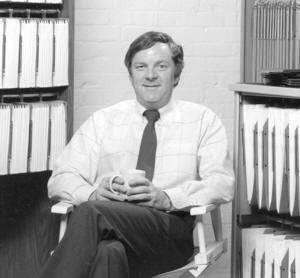 David M. Black 1943-2004
It was the summer of 1986 when I walked into the lobby of the Anaheim Sheraton Hotel to interview for the position of Regional Sales manager with the R.P. Gillotte Company, a Division of the Atlantic Envelope Company (AECO) and National Service Industries (NSI). That was the first time I met David. I was immediately overwhelmed with his Scottish accent and European mannerisms, having lived in Ireland for 13 years myself. As we spoke, I felt like I had known David my entire life. We grew up in similar environments. Besides talking about business, we chatted about our younger days in each Ireland and Scotland and realized we had practically lived the same life. We hit it off immediately.
I didn't have any industrial sales management experience as my past had been spent mostly in retail sales management in Ireland and I knew little about American business. For some reason for which I have been forever grateful, David took a chance on me and gave me the job. On September 8, 1986, I arrived in Columbia, South Carolina to get my first look at the company to which I had just dedicated my professional life. The first thing I noticed when I walked into David's office was few of the kind of personal items you see on the walls of management offices--plaques or certificates. However, there was one noticeable difference...I had never seen so many family photos on a desk. There and then, I realized David was a dedicated family man, a fact he proved again and again through the years.
For sixteen years, I talked or worked with David almost every day. As a Regional Manager with R.P. Gillotte Company, I was based in California, but I still called David every afternoon to discuss the day's business, or dealers, or "things" in general. Those calls would always last an hour or more, and I never felt like David was trying to get rid of me. He always had time for employees.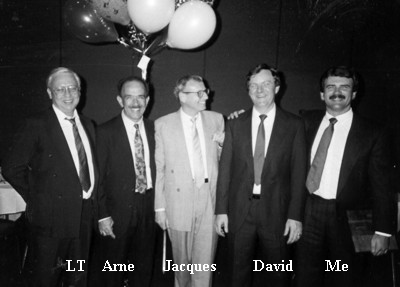 During the early years, most of the time we actually spent together was at trade shows or sales meetings. We worked hard, but also took time to "smell the roses."
Over casual (and not so casual) dinners, I learned a lot about David's life and his marriage to Rita and his daughter, Lindsay, who was only two years old when I first met them in David's home in Coldstream in Irmo, SC. In those days, as General Manager, David spent most of his time making marketing and management decisions.
However, together with my fellow sales managers, Arne Chardukian and L.T. Reddick (who sadly passed away just three months before David) we worked hard, but we also had a lot of fun. Despite the occasional minor disagreement on certain business issues, the four of us always had a great time when we were together....always! In fact, outside of time spent with my family, I look back on those days as the best days of my life.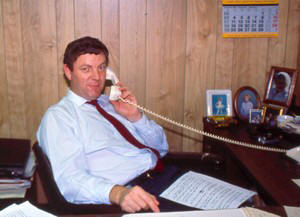 During this period, I also became acquainted with David's zest for the European lifestyle. Since our products were manufactured in France, we often hosted International Export Manager, Jacques Campe, L'Oblique's global ambassador. Jacques and David were extremely close and would spend hours talking about world affairs, politics, or business while sharing a glass of wine. Meals lasted for hours and the conversation was always engaging and witty. David often talked about his dream of living in the South of France, a lifestyle I think he was born to live, and since he spoke French, I believed he could!
As time passed, David and I continued to discuss ways to build the business and I realized I wanted to make a bigger contribution in the area of marketing, rather than sales. David offered me the position of Marketing Manager, on the condition I relocate to Columbia. My wife, Kim and I had already been considering a change and with a two year old boy ourselves, and another child on the way, we decided Columbia would be a great place to raise a family.
We visited Columbia and Rita and David, and six year old Lindsay, were wonderful hosts, making us feel welcome and special and we found a house not far from theirs. But before we could finalize the deal, I was offered the chance to go to Atlanta instead to work for the parent company, AECO Products. I agreed, on the condition I could continue to work with David and Oblique, which I did for the next four years.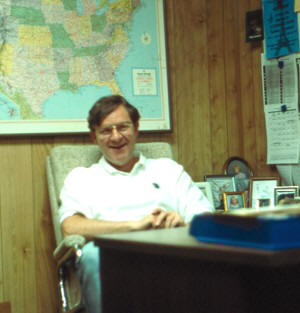 No longer an employee, but a peer, I learned even more about his commitment to the company and its products. We worked together on a variety of projects and David was always willing to share ideas, work hard to achieve his goals, and always allowed others to make a contribution, even if it meant changing his original plans. At the corporate level, David enjoyed the respect and friendship of the other General Managers at Atlantic Envelope...not an easy task when you are one of only three GMs not running an envelope plant. Not managing an envelope plant always seemed to put David "outside" the heart of the business, which I think suited him just fine...it allowed him to run his own show without a lot of outside interference.
In 1994, our relationship took a new direction when I purchased Oblique from AECO and made David Executive Vice President and co-manager of the company. I focused on products and marketing, while David took on the new and vitally important task of building the business directly with the sales reps and managing the day to day operations. The system worked well, and although the business faltered for the first year, we soon were profitable, thanks in no small part, to David's relationship with the sales reps and his knowledge of the product.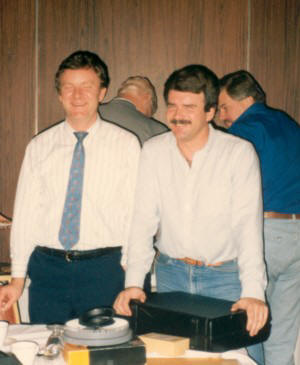 Unfortunately for me, the events of 9/11 took a toll on our business. I didn't have the resources to weather the storm and sold the company to local businessman, Ken East, from whom we were leasing our plant. Ken immediately made David President of Oblique Filing Systems, a distinction he deserved after 20 years of commitment to the company.
During his last two years, I spoke with David less and less as my work as a consultant continued to take me further and further away from Oblique. The last time we spoke was in August, 2004 when I told him about L.T. Reddick's recent untimely death. We talked about the brevity of life, and the need to live it to it's fullest while we still enjoyed our health. I said goodbye and hung up, never realizing it would be the last time we spoke...I guess no one ever does.
I was in California when I checked my answering machine. Ken East had left a message that David had suffered a heart attack and was in the hospital. When I returned home the following Tuesday I made plans to visit David the following day. Wednesday morning, I received a call from Tracy Mattox telling me David had passed away. I told her he hadn't and in fact was in the hospital. A few minutes later the phone rang again and Tracey confirmed that David had passed away that morning.
At David's funeral, Lindsay, then 20, provided the sad words for his eulogy...the memories of a child and her father, on the beach, sunburned, but happy. I sat there feeling lost...nothing to do, nothing to say that could change anything. David was gone.
David's passing has given me pause to think about my own life, my family, my friends. All too early, he has left us, and we are all better for knowing him. I know that he will be sadly missed by Rita and Lindsay, and our prayers are with them as they come to terms with life without a father...without a husband.
David will also be missed by the hundreds of sales people, dealers, and customers with whom he forged very real and personal relationships over the twenty two years he dedicated to Oblique. I am not sure what they will do without him, except try and keep going. But it won't be the same...it can't be. Through three changes of ownership there had always been one constant at Oblique Filing Systems--David Black.
Finally, I miss David personally. For eighteen years, I spent more time with David than with any other person, outside of Kim and our two boys. To wake up tomorrow morning, and the next, and realize he is not around will take a lot of getting used to. In fact, I may never get used to it. So, I wanted to create this page as a small token of my esteem for David. It's not much, but I hope that in sharing the celebration of his life, I can learn to live my own as fully as he did.
Goodbye old friend!
Photo gallery: Please click on thumbnail to see full size picture.

American Library Association 1986
Left to Right: Company founder, Bob Gillotte, a local dealer and David get ready for the show.

Oblique Management, 1985
Bob Gillotte, David Black and Arne Chardukian pose for corporate photos at the 1985 AECO Sales Meeting.

Graph Expo, 1986
David and me in front of the booth at my first trade show in October 1986 in Philadelphia.

Awards Presentations
David presents Bud Stockdale of Western Office Systems a special award at a 1986 sales meeting in Reno.

Meeting with Dealers
David enjoys a drink with sales reps at the 1988 Sales meeting in Reno L to R: David, Jim Caldwell, Ron Williams and Merna Goldberg.

Oblique Group in 1987
L to R: David, Gerry, Corine Hamlin (France), Arne Chardukian, and Jacques Campe (France). Pictured at the AECO Sales Meeting in Calloway Gardens, GA.

Hard At Work
David helps pack up materials after the 1989 Reno Sales meeting.

Did you hear the one about....
John Burrows of Ellis Systems and David share a joke at the 1990 Reno Sales Meeting.

David and Tom
David Black and Tom Hynes of Ellis Systems share a drink at the 1990 Reno Sales meeting.

Saying Goodbye
1990 Reno Meeting (my last) where David was nice enough to honor my work with Oblique.

Relaxing With Hurricanes
The Oblique team relaxes at Pat O'Brien's in New Orleans during the 1990 ALA show. L to R: Gerry, David, LT and Corine Hamlin (France).

Oblique Management 1993
The Oblique team photos at 1993 AECO Sales meeting L to R: Bob Shaw, Joe Kammers, David, and Scott Myers.

1993 AECO Sales Meeting
Left to Right: Joe Kammers (RIP), Scott Myers, David Black, Paul Tessman, David McCall, William Lyon, Dick Balte and Ron Roberts.

AECO General Managers
L to R: Front: Robert Allain, Richard McElrath, Paul Tessman, Jim Ferrell, John Herschfield, David Black. Back row: Jim Brewer (RIP), William Lyon, Randy Zook, Bob Papes, Joe Williams, and in 1993.

May I have your attention
David looks to make an announcment at a sales meeting in 1995.

Teacher
David explains the finer points of Oblique to reps at dealer training in 1997.

Pool Shark
David relaxes with dealers at Bailey's Sports bar in Irmo after a hard day of training in 1997.

David Dec. 8, 1997
A shot of David in his office on Western Lane, shortly after moving into the new building.
Obituary
(reprinted from The Columbia Star Newspaper - October 8, 2004)

David Black
COLUMBIA Services for David M. Black, 61, were held Saturday October 2 at 3:30 pm at Union United Methodist Church in Irmo, with burial in the church cemetery. Visitation was 2–3:30 p.m. at the church, immediately preceding the service. Memorials may be made to the American Heart Association, South Carolina Chapter, or to Pastoral Care at Providence Hospital. Dunbar Funeral Home, Dutch Fork Chapel, is in charge of arrangements.
Mr. Black passed away Wednesday, September 29, 2004. Born in Edinburgh, Scotland, March 8, 1943, he was the son of the late Jean Robertson Fairley and the late David Moffat Black. He graduated from the University of Glasgow School of Business and Management. He and his wife were married in Dundee, Scotland in 1975. In 1981, he came to Columbia as marketing manager for Oblique Filing Systems, where he has been President since 2002.
Surviving are his wife, Rita Dutton Black, daughter, Lindsay Edith Jean Black, both of Columbia, a sister, Margaret Ochiltree Greenwood of Liverpool, England, and feline friends Jinx and Teddy.
Mr. Black was a member of Union United Methodist Church. He was a devoted Irmo Hi–Stepper dad, enjoyed Robert Burns Society dinners and the Highland Games. Other hobbies included boating and travel.
He never met a stranger and was beloved by family and friends alike for his keen intelligence, quiet strength, enduring patience, warmth, kindness, and humor.