Joe Kammers 1950-2004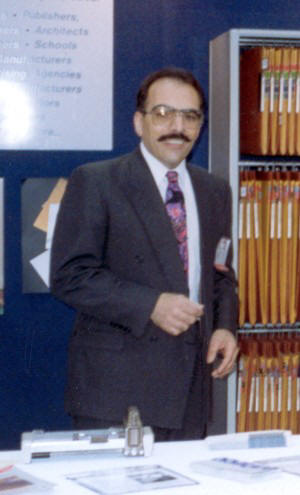 The first time I met Joe Kammers was in November, 1991. He had just joined the sales management team at Oblique Filing Systems and I was working with AECO, attending a Direct Marketing Association conference in Boston. David Black (RIP) called me and said he wanted me to meet with Joe, and we set up a time to get together.
When I finally got together with Joe to go over a presentation he had, I was in awe. I had never met anyone so enthusiastic about his job or life. Joe didn't enter a room, he burst into it, bringing all the energy and drive of a kid half his age...I was impressed.
Over the next couple of hours, as I got to know a little bit more about Joe, I quickly liked him. His energy and drive permeated every part of his life and whether he was talking about ideas for the product line, his trip to the hotel, or the dinner he had the evening before, it was obvious he enjoyed every minute of his life.
Although I didn't see Joe very often over the next few years, we met at the Oblique sales meetings and AECO annual sales meetings, as well as the odd manager's meeting for Oblique in Columbia. He always came prepared, excited about the topic to be discussed, and ready to go. He was a high energy guy, dedicated to his work...and his family.
The only time I was lucky enough to see Joe's private side was at the Oblique meeting in Tamarron, Colorado in 1993. He came with his wife and it was obvious he was dedicated to being with her. In fact, although I was only at the meeting for a few days, I don't remember seeing much of Joe.
Joe left Oblique in late 1993 I think and I didn't see or hear of him again until nearly a decade later, in 2001 when he became a Spacesaver Area Contractor. His company, Kammers Systems, had taken over a vacant Spacesaver territory. By that time, he was working with his son. I called him a couple of times to say hello and he hadn't changed a bit...still full of energy, still living every moment to its fullest.
After selling Codified Media in 2002, I didn't get the chance to talk to Joe again. I was shocked when David Black told me he had suddenly passed away in February, 2004. Little did I know that in that one year, I would lose Joe, LT and David all too suddenly and all too soon. Although I was closer to LT and David, I think Joe's passing had a major impact on my life as he was the first of my "peers," some one I had worked with, who was suddenly gone.
His death jolted me into the reality that we are all here for such a short time. In the days and weeks after hearing of Joe's passing I tried very hard not to take anything in my life for granted...not my family, or my health. Kammers Systems is still doing business today, as far as I know being run by Joe's son.
Probably more than anyone else in my life, Joe taught me to live each moment to the fullest...I know he did.
Photos: (click on thumbnail for full size image)
| | | | | |
| --- | --- | --- | --- | --- |
| | | | | |
| Joe, David and Scott Myers in Callaway Gardens, 1991 | Joe (far left) at AECO dinner in 1991 | Oblique team-1992, L to R: Bob Shaw, Joe, David Black, and Scott Myers | Joe with Mark Gillotte at a Graphics show around 1992 | Joe gets ready to present at AECO meeting, 1993 |
| | | | | |
| Scott, Bob and Joe in 1993 | Joe tells a tale at 1993 AECO meeting. | | | |