Sunset Records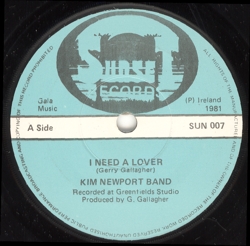 During the golden age of the showbands, very few bands had the money or equipment to produce their own records. In fact, outside of Dublin, few recording facilities even existed. All that changed in late 1979 when Ger and Carmel O'Donoghue built the first Greenfields Studios facility in their garage. The ultra compact studio boasted eight track recording and a rate of just £10 per hour, a rate they would maintain for many years.

Kim and the band first ventured to Greenfields in June of 1980 to record "I Am A Woman" and "Too Many Heartaches." Although hampered by a lack of available tracks, the record received a lot of airplay on RTE radio and helped prove a band could make a record without the Dublin "heads." Without a record label, Gerry decided to form Sunset Records and Gala Music Publishing to handle the release of the band's first "self made single." The idea seemed simple...once the process was in place, any band could release their own record by recording at Greenfields and releasing the record through the Sunset label.
To Gerry's surprise, other bands responded and in a little over three years, the Sunset label released 11 singles in all from a variety of performers. The first band to record on Sunset was Gerry's former bandmate, Sandy Duskey, whose manager also happened to be Tom Kelly. Sandy and The Duskey Sisters also recorded in Greenfields Studios and released "I Just Don't Feel Like Dancing."
Meanwhile, at Greenfields, within months of the band's first session, Ger O'Donoghue (at the time, the branch manager of a local bank) took the bold step of expanding the studios capabilities to sixteen tracks, while maintaining his low hourly rate. Business was booming. Suddenly national names like Shaun O'Dowd and Liam Hurley were recording in the Headford-based facility. The article at the right (click to enlarge) was written in 1981.

In all, Kim and the band recorded eleven songs at Greenfields. Their first session took place on June 10 and 11, 1980 when they recorded "I Am A Woman" and "Too Many Heartaches." The tracks featured Gerry on guitar and bass, Seamie McGowan on guitar, Francie Lenehan on acoustic lead guitar, Dick Lynott on drums, Tony Maher on keyboards, and Michael Keane on steel guitar. The session was produced by Gerry and engineered by Ger O'Donoghue and recorded to eight tracks.
All subsequent sessions were sixteen track. After Dick left the band, Mickey Belton played drums (formerly with Gerry in the Magic Band) and Tony Maher continued to handle all keyboards. James Blennerhassett played bass on several sessions as well. Magic (Cornelius of the Magic Band) even helped out on a duet recording of "Somewhere Along The Way" which Gerry entered in the Irish National Song Contest.
Greenfields studios has continued to grow and record some of the finest music ever produced by Irish artists. For more information on the studio and Ger and Carmel, follow this link to their homepage.
Full list of Sunset releases:
Recordings not released on record, but performed on TV by the Kim Newport Band:
Somewhere Along The Way
Take It or Leave It
Daddy Played The Guitar
Rock n' Roll Party