Preserving Memories
At GMS Productions, one of our goals is helping you preserve your precious memories or corporate archives. We have a wide variety of services that can assure your special occasion will be around for years to come.
To view or download our brochure (Adobe Acrobat format), please click here.
Some ideas to consider: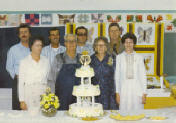 Anniversaries:
We can prepare a special presentation which documents special moments shared over the years. We can provide final output as a Powerpoint™ presentation, DVD, VHS video or any other format. We can even provide the equipment for showing your presentation at a very reasonable price.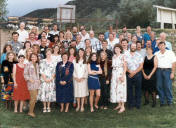 Reunions:
Is your class getting together after ten, twenty, thirty or more years? We will capture the entire event on videotape and edit it into a professional presentation that will remind you of your classmates for years to come. We can also help you create a presentation for the event itself with your photos, yearbook, or other materials. Your video scrapbook is guaranteed to not leave a dry eye in the house.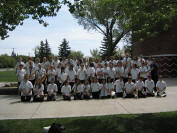 School/Organization Outings:
Is your school band, group, scout troop or club taking part in a State competition, or taking a trip to perform at a festival, or a special camp? We can videotape the entire affair and put it together as a keepsake for everyone to enjoy. These events only happen once and what better way to capture memories than to have it professionally videotaped and condensed down to a snappy one hour travelogue!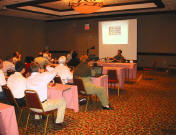 Business Meetings:
GMS Productions was originally formed to handle the needs of small, medium or large business meetings. From opening montages to business presentations to award ceremonies, we can handle your needs. Whether you want a retrospective presentation to open your meeting, an up tempo motivational message, or a Powerpoint presentation on sales results, we can provide the tools without the high cost.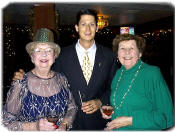 Retirements:
Imagine the surprise of that special someone when the room darkens and their life fills the room with light and laughter. We can help you put together a tribute to a co-worker who is leaving the company. Not only does the presentation makes for a moving tribute on the night, but it is also a wonderful gift.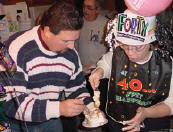 Birthdays:
People are always looking for a unique way to celebrate those special birthdays (40, 50, 60, 70++). What better gift than a short video or presentation highlighting the person's life, both humorous and poignant? We can take your videotape, photos, and 8mm movies and create a fitting tribute to help celebrate another milestone in the person's life!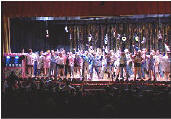 Dramatic Programs:
Unlike most services who simply point a camera at the stage and press record, we provide two cameras, professional video editing, titles, and everything to document your production for all time. We pride ourselves on ensuring the record of your program lives up to the excitement created on the night...not just a bland, flat, performance.
We could go on and on, but you get the picture. Please call Gerry to discuss your idea and how GMS can work with you to make your special occasion truly memorable. Because we are a small company and all tasks are handled in-house, our prices are surprisingly affordable! Call 803-749-0772 to find out more today and thanks again for patronizing the Irmo Talent Show!