Noel "The King" Stewart : 1939-2015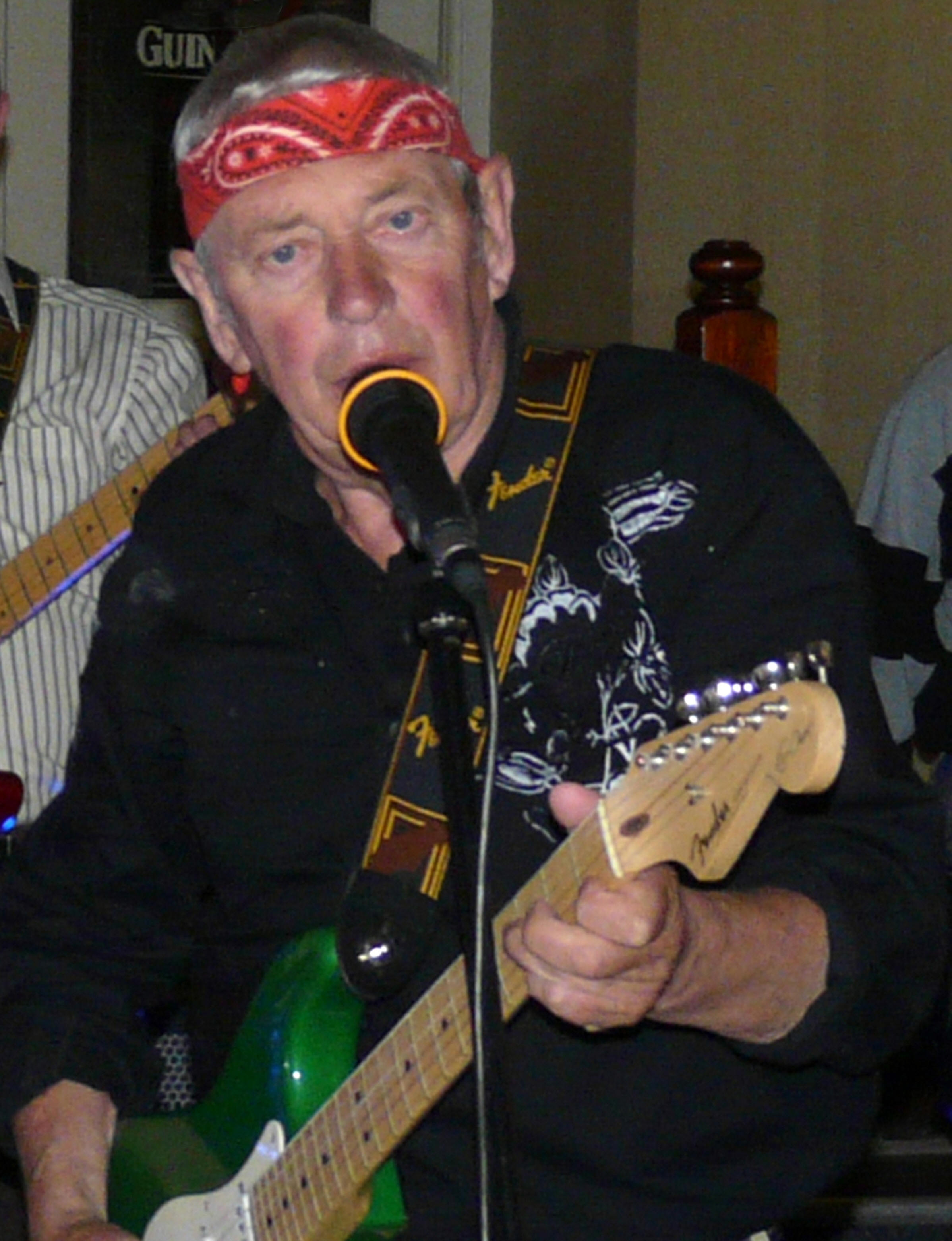 The first time I met Noel Stewart was a night I went to a local bar in Sligo called The Ark, where an old friend of mine, Joe Foley, was playing with his band, The Showband Boys. It was 2006 and I had come to Ireland to find work, which I eventually did but that is another story.
The band was a typical pub group: drummer, bass and two guitarists. I knew everyone in the band except Noel. What struck me first about this lead singer was his appearance. As I recall, he was wearing a bandana and a shirt which said "The King." I thought it was a little flamboyant for a singer in a pub group. Anyway, I stayed a while, had a listen and when I left I said "great stuff" to Joe.
A short time later, my life was turned upside down when my 16 year old son, Grant, was killed in a car accident. I returned to the States and literally the day after the funeral, I was offered a job back in Ireland which I took. As 2007 started I was back in Sligo and the Showband Boy's guitar player, Michael "Rip" Carty, hurt his hand at work and Joe called me to ask if I would help them out on guitar. For the next few months I became a regular member of the Showband Boys and got to know Noel and drummer, Tommy Conlon, very well. We played all types of gigs including parties, pubs, there might have even been a wedding in there.
From my perspective it was a great time. Not only did it bring me back to music, which had been my first love, but it also helped me through the difficult period I faced after the death of Grant. And it reintroduced me to the pub scene in Ireland as I had been away for many years. I made some new contacts, but most importantly for me, I became a friend of Noel's. Before long, we started getting together for a cup of coffee in a local coffee house called Costa Coffee in O'Connell Street in Sligo. I say "coffee," but Noel always had the same thing....a pot of tea "and make sure there are two tea bags!"
Being with Noel on the streets of Sligo was an experience in itself. Everyone, and I mean EVERYONE, knew Noel and said hello, or "how's the King" and even more amazing to me, he knew them ALL by name. I would say, "who was that?" And he would tell me not only about them, but their parents, siblings, everything about them. I learned my first lesson about Noel....everyone loved him.
We would talk mostly about music and getting gigs and the band and getting gigs. (I know I repeated that but in the beginning it really was mostly what we talked about). I didn't know him well enough to delve into his personal life, but he did tell me about his past, which I would learn, was a troubled and difficult time for him. As time went on our conversations drifted away from music and were about life in general.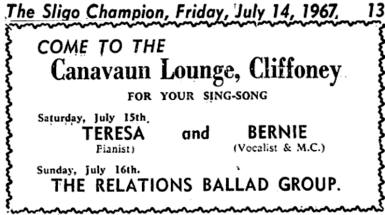 Born at Christmas in 1939, Noel lived in Forthill, Sligo. He didn't talk much about his childhood, except that I got the sense it was pretty typical for rural Ireland during and after the Emergency (Ireland's name for World War II). Noel came to music a bit later in life, I think. At one point I was trying to figure when he started gigging and found a newspaper advert from the Sligo Champion which was the first to mention his band, The Relations. It was dated July, 1967 and he would have been 27. His wife, Nellie, was the lead singer in the band and his brother-in-law, Charlie Dolan, the other singer. I showed the clipping to Noel and although he was not 100% sure, he thought it might have been one of their first two or three gigs.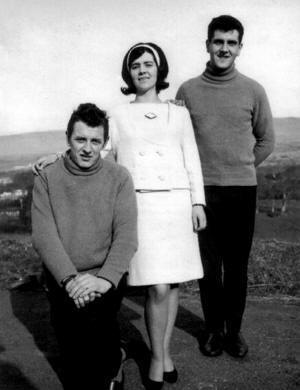 The trio were soon very popular and were playing all around County Sligo. Pubs, parties, weddings. For those of you who weren't around back then, the late sixties were a special time in Ireland as the showband era had done much to break the hold the Catholic Church had on the Irish people and the youth-oriented sixties had given rise to a new form of entertainment across the island....the singing lounge. They popped up everywhere and there was plenty of work for musicians. Although many musicians would go on to careers in the showbands, others, like Noel, preferred to stay local.
Noel often talked about the heady days of The Relation's peak popularity in the early 1970's. They were travelling all across the Northwest. Not only were there plenty of gigs, but also plenty of drink. Sadly, the drink got a hold of Noel and although he talked of it often, he was not proud of what went on in those days. It took a hold of his life and his family, health and lifestyle all suffered. They sold their house and shop as things continued to be bleak.
At this point I just want to say that some people may feel discussing this part of Noel's past is inappropriate, but to me, it is one of the most important parts of his story.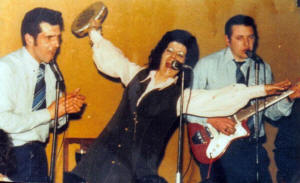 As far as Noel's health he had to have heart-bypass surgery in the mid nineties which helped to turn his lifestyle around. However, life (not being fair), dealt Noel another blow when Nellie passed away after a lengthy illness in 1997. At this point I think anyone else would have been tempted to give up on life, but not Noel. He battled back and put his life back together and moved forward. This was another important lesson I learned from Noel, the absolute necessity to keep moving forward, no matter what life dealt you.
Fast forward a few years to around 2000. Joe was playing regular gigs around Sligo and Noel, shattered by the loss of Nellie, finally started to venture back out to listen to music again. Eventually, Joe and Rip asked Noel if he wanted to sing a few songs and within weeks, he was a permanent member, and then front man, with the Showband Boys.
Throughout the band's fifteen year history, they played all the important gigs around Sligo, from the Mayor's Ball to weddings, pub and parties. At the time, Noel was singing several Elvis songs and began referring to himself as "The King." It might sound a bit pretentious, but if you knew Noel, you would know it was only a joke....but the joke stuck and soon everyone in Sligo referred to him as "The King."
Fast forward another few years and that was when I met Noel. The band was very busy and Noel was enjoying life like never before, although he often spoke of missing Nellie and would visit her grave every Sunday. Often walking the five mile round trip at the age of almost seventy.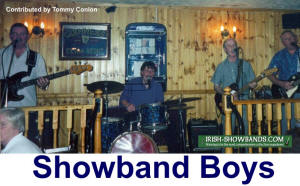 Noel was always meticulous about equipment, investing every penny he made (and much he had to borrow) to keep up with the latest in technology and quality. They were always the best equipped pub band in Sligo. This lead to several other characteristics of Noel's which I always admired: his honesty and generosity.
Whenever Noel bought new equipment, he sold the old equipment at half the price he had paid, and often for gear that was only 6-12 months old and kept immaculately. Many Sligo bands and musicians today have amps, speakers and guitars they bought from Noel for very fair prices. We used to joke that he should open a shop, he was selling so much equipment. Not only would Noel sell gear for a hefty discount, but often gave back the buyer 10 or 20 Euro "for luck." (An old Irish custom which died out years ago.)
But that was Noel.
The quest for the best equipment also lead to many road trips where Noel and I (and sometimes Joe), would head off in the car to Dublin, or Derry, or Glenamaddy, Athlone, Enniskillen, or Raphoe in search of the best deal for an amp, speakers, or guitars. These trips were always great craic with Noel joking, telling stories about the "good old days" and an amazing ability to tell me where every bus we passed on the road was going, when it had left and when it would arrive at its destination. He could also generally tell me who was driving the bus.
Invariably we would stop for a meal somewhere along the way. Noel loved a mixed grill, McDonald's burgers and from time to time, Kentucky Fried chicken. They were great days and memories I will always treasure. It was during these trips that Noel seemed to open up more and would tell me about Nellie's illness and eventual passing and it was obvious her absence from his life was one he would never get over, a void he could never fill. And yet it was always there....the laughter.
In September 2011, Noel had been complaining about a pain in his legs for months. Painkillers had not been doing the trick and finally the diagnosis came that Noel had prostate cancer. Worse again was the fact that it had moved into his bones and other areas of his body. Doctors gave him months or maybe a year or so to live. I guess that was when my admiration for Noel and our friendship went to another level. He could have easily thrown in the towel, but instead he fought back with a vengeance. The cancer was not going to get him down.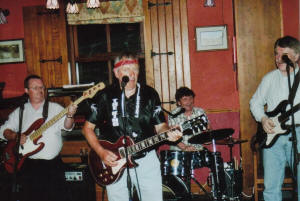 As an aside, I have to give thanks and my utmost admiration to the doctors and especially the staff at Sligo General Hospital. Despite all the odds of his illness, they gave Noel the best of care, including experimental cancer treatments and more importantly their personal friendship and support. Noel ate his dinner in the hospital most days and was treated like one of the staff. As usual, everybody loved him and it showed.
Despite the setback of his diagnosis, Noel never lost his sense of humour and would often joke about takings gigs in the months or even years ahead, always adding, "if I am still here." As a friend, the next few years were sometimes difficult. Even with the best of medical treatment (Noel went through everything from Chemo to Radium and more) but he was getting weaker. It was slow and almost imperceptible but he was walking slower, and constantly battled the aches and pains which accompany aggressive cancer treatments with many sleepless nights.
One thing which became apparent during this time and another lesson I learned from this great man was he kept going because he was a survivor. One year turned into two and then three and to be honest, I thought Noel might even beat the cancer, but I guess in the back of my mind, I knew he wouldn't. As he started his fourth year as a cancer survivor, things began to go wrong. He needed a few stays in hospital. Getting in and out of cars became harder and harder, he sometimes had trouble sleeping and it became obvious that this treatments were becoming less effective and the cancer was reasserting itself again.
In hindsight, I guess the "beginning of the end" started in the summer of 2015. Noel had fallen in his house getting out of bed and was unable to get himself up. Afterwards he told me that although he had fallen, he was still trying to pull himself up by pulling on the sheets of the bed, which just came down on top of him (always joking about things). Fortunately, Joe Foley had arranged the night before to call on him to go for breakfast and found him on the floor. He had hit his head, but more importantly, his legs were losing their strength. It wasn't long before he could no longer walk under his own power. He got a walker, but still insisted he would take it on the bus down to the town and it wouldn't slow him down....the eternal optimist!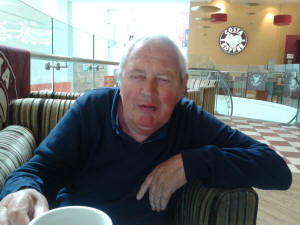 But he never really complained. Once he was no longer able for the long walk up and down to Sligo town, we would have coffee at his house near Sligo Hospital. Some days he would seem a little down and I would ask, "what's wrong." He always had the same response, "Just feeling a little sorry for myself, but I'll get over it." And he always did, laughing and joking despite the fact that he was basically housebound. Around this time, the doctors shifted their focus from cancer treatment to pain management. Apparently Noel's heart could not stand another round of Chemo or Radium. Through all of this he kept on performing with the band. But it all came to an end the night he played in the Irish House and was so tired he sat down on his amp, only to discover he couldn't stand up without help. Only then, did he consider retiring from music.
At this point I need to say a few words about Noel's children...
They were there for Noel on a non-stop basis. His daughter, Hillary, took him into her home for months, providing a safe environment and ensuring he got the best of care. He only returned to his own house on his own insistence. She works in Cregg House, a home for mentally challenged adults and children and has dedicated her life to serving others. Noel has three sons: Noel Jr. is in the Irish army and moved into the house with Noel and looked after his father until he was called to serve six months on the border with Syria on a peacekeeping mission. Fortunately he returned a month before he lost his father. Robert, also in the Irish army, came to Noel's house every day to find out if he needed anything and to make sure he was okay. And finally Brian, despite living without a kidney and requiring dialysis three times a week, was there for his father throughout this time as well.
In the end, Noel went quickly. On October 6th, he was to go into hospital for two units of blood. It would only take a few hours, but they kept him there because they wanted to help him get "all his levels right." He was still jovial, joking and talking constantly about how as soon as his legs were right, he'd be down the town. But it was not to be.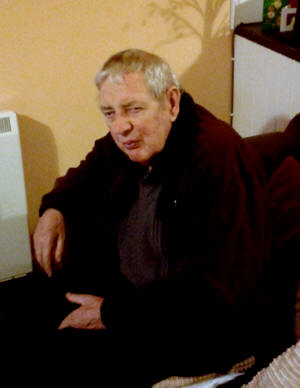 Over the next few weeks, he grew weaker and weaker. I visited every two to three days and could see him slowly withdrawing from life, sitting for hours and eating very little food. Once he decided to retire from music, and then accepted that might never walk again (although we all hoped for the best) I think Noel had decided he would fight no more.
On October 27th, 2015, at 9:00 am, Noel slipped away in his sleep. He had not been awake for several days. Nobody could have known he would slip away that fast. We all thought he would be around for weeks and perhaps even months so despite months of preparation, his passing was still a great shock.
Thinking back over the last nine years, I am a better person for knowing Noel Stewart. He taught me a lot about life. He showed me that as we age, we don't have to become bitter, we can still hope and dream about the future even at 75 and suffering from prostrate cancer. He taught me we should treat those around us with respect and be honest in our dealings with others.
Throughout the years I knew Noel, he taught me that there is no purpose in hanging onto the past, as it is gone and all that exists is today and hopefully, tomorrow. This was no truer than the day I drove him to Derry to look at some musical equipment. He surprised me when we were walking down the street and suddenly said, "I have to go in here." It was a shop that paid cash for gold. Inside, Noel took two wedding rings from his pocket and traded them for cash. When we left, I asked him why and he said, "maybe someone else can use them."
He used the same logic every time he sold a piece of equipment at a bargain cheap price saying if he held onto it, it would only clutter his life and someone else might as well get the benefit from it if he no longer needed it. Being a pack rat myself, I doubt I will ever have the courage be that brave. Noel taught me how to live life simply and without the stress and pain of past regrets. What is gone is gone and what's done is done. Worrying or pining for yesterday will not help you face tomorrow.
Noel is gone, but his life was important. He will be sorely missed and I doubt I will see his like again.
Goodbye old friend.