VIDEO PRODUCTION

GMS Productions was officially formed when we added a full service video production facility to our existing audio recording studio in 1994. From humble beginnings, we have grown our capabilities to include a wide variety of video editing tools.
Unlike many "industrial" production companies that started out with Hi8 or Super VHS formats, we selected the industry standard, broadcast quality, Betacam SP. Although the format has been superseded by digital video technologies, its quality remains a standard by which all future formats will be measured.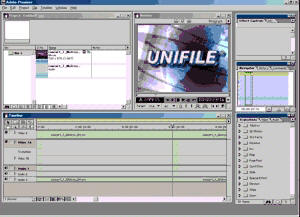 Today, we capture all source footage on Betacam SP and then digitize only the footage required as broadcast quality MPEG files. These files are imported into our digital non-linear editing (NLE) based on the Matrox Digisuite Max system. We currently use Adobe Premiere software, as well as a wide variety of plug-in transitions, tools and effects.
We also have Adobe After Effects software, which allows us to add special effects such as aged film look, sepia tones, and a wide variety of other effects to your video. The biggest advantage we offer over the competition is price. We promise to beat any written price quote by any video production company...guaranteed.
We are equipped to handle any type of shoot with two Sony Betacam SP 537 cameras, tripods, dollies, wireless microphones, and even eight or sixteen track SMPTE-synced audio recording, if required for live performances.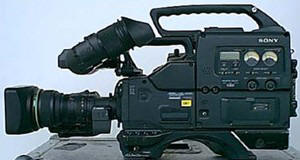 A recent addition to our video production suite is the full set of JumpBacks™ digital backgrounds and 3D animations from Digital Juice which will give your video a professional look at a very reasonable price. We also have an extensive in house collection of royalty free backing music, the full Digital Juice BackTraxx™ Music Library.
Then, once we have a completed video program, we can output it to a wide variety of formats including, DVD, Video CD-ROM, Super video CD, VHS, Hi8, or any web compatible format.
Equipment List
Sony Betacam SP DXC-537A cameras with PVV-1A recorder (2)

Sony Betacam SP UVW 1600 playback decks (2)

Sony Betacam SP UVW 1800 recorder

Matrox Digisuite MAX NLE System

Adobe Premiere 6.5 editing software

Adobe After Effects

Phillips DVD Recorder.
Video samples: Click on a photo below to see streaming video.
Must have REAL player plug in. Click here for more info.